Walter Benjamin used strolling through the city of Paris as the means by which to understand the night life of its streets. In this sunnier account I'm reflecting on a bike ride I did one day down through the Valleys of South Wales and a sort of canine observation exercise which unfolded naturally before me as I cycled along. The anthropologist Bourdieu in his Distinction describes how social class is expressed in a myriad of small cultural choices and I'm sure he would have regarded the kind of dog we like to have around as part of this habitus.
These days I'm not quite such a devoted cyclist as I was in my roaring London life when I owned a drop-handlebar Dawes Horizon. I put my lycras on only if I am feeling daring, usually preferring to go along on my Landrover Ascot in floaty dresses.
For this trip I put my bike on the train to go up the Valleys and when I come home I can freewheel most of the way down. (Although this is still a several mile run involving quite a bit of exercise, you know. I earn every sweet mouthful of those almond croissants and cream slices.)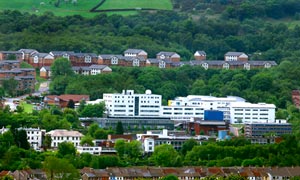 Starting from Treforest (Trefforest if you are looking for the train station), I get up the hill past the Glyntaff Campus (puff puff! must eat less crisps) and am now on the Taff Trail. With the cemetery on my left and the university campus on my right, I set off through the sunlight that flashes through the leaves of the hedgerow. I wave at my friend's office so I can email her later and tell her I did this.
Once clear of the university, we are in a realm of rows of small housing. Along the path you can often meet older men taking some exercise and younger men and women pushing pushchairs. Sometimes you ride through hedgerows and treelines along an old railway track, sometimes past open fields with the view down and across to the beginnings of Cwm Rhondda at the side. As I come along here, I see my first dog: a greyhound on a leash being held by a man who stands chatting with a group of other men and a young lad (probably his son? anyway I am not going to stop and enquire why he is bunking off school). I wonder if the greyhound is still a working dog or retired and rescued.
I scoot on down the trail towards the woods above Taffs Well. It's tempting to stop off at the lovely Umber and Sienna arts café for tiger toast (made from bread which Wikipedia says is a dutch bread but we in Wales know comes from Tiger Bay). However I am never sure how long I might take floating along the trail on my wheels and I don't wish to be late picking up the Piglet from school as this will lead to yet another lecture on being the Worst Mum Ever.
On down the trail towards Tongwynlais and the river I see a different class of dog: first a King Charles Spaniel being walked by a cheery elderly gentleman of leisure and then another classic pet of the middle classes: a golden retriever with a fit middle-aged lady striding along behind it. Since we are all evidently middle class with our dogs and bicycles - and I have courteously slowed down to make sure I don't run over the dogs - we smile and say Hullo.
I come through Tongwynlais under the looming aristocratic folly of Castell Coch and swoop down past the primary school back onto the trail. As I freewheel along the trail past Radyr and the weir, I get ready to use my bicycle bell. Once in London while I cycled along the canal, a workman sang to me: You can ring my be-e-ell, ring my bell! and now I always snigger when I ring my bicycle bell. I start seeing mums with pushchairs, people out walking with toddlers, people in wheelchairs taking the air along this green shady community resource. And here is the classic pet dog of the lower middle class suburban family trotting along with its ears pricked, looking for trouble: the Jack Russell.