The Two Worlds of Charlie F, produced by Bravo 22 Company is an extraordinary piece of work; for a number of reasons.
To begin with this isn't a commercial piece of theatre. Originally it was intended to be shown only for two nights in the West End. It was meant to be a workshop within which wounded, injured and sick service personnel were able to consider and hopefully come to terms with the difficulties they were facing on return from Iraq and Afghanistan, and I think I gathered in one case Northern Ireland. On its two nights in the West End, with an audience of the great and the good from the world of theatre, it was received with such rapturous applause that it was decided it would go on a limited tour.
This work is unlikely to become a wildly successful commercial venture. The play is performed by a team mixed between professional actors and injured, sick and wounded service personnel, who couldn't be expected to sustain the physical demands of a full scale tour. At the heart of the venture, then, must be the aims of the British Legion who funded it, to provide a space for the veteran soldiers to recover from the worst wounds they carry: those in their minds. The audience were struck by how hard it is to make out who was an actor and who was a veteran soldier, which is a testament to the acting as much as to the direction, but what is more extraordinary is the commitment on the part of those involved in the project to a piece of work which won't be commercially big bucks, which is altruistic in offering a space to people who are in desperate need of some explanation of suffering beyond what they had imagined they might have to face.
Part of the extraordinary character of this piece of work is down to an unassuming brilliance on the part of the writer, Owen Sheers. In the pre-show talk, the director spoke about the uncharacteristic selflessness of the actors, who instead of being egotistic as actors often have to be, had devoted themselves to supporting others in the development of the piece. This might be said even more of the poet Owen Sheers. This is an unusual piece of writing: sociological in character. Sheers listened to the soldiers talking about their experience in order to produce this work and had that skill which academic researchers look for in top interviewers, to allow participants to speak with their own voices, not to filter out with their ears what they choose not to hear. He picked out phrases which occurred again and again on the part of participants as well as those which stood out as expressing something ringingly important about what they were going through. What emerges is a mosaic of voices with a deep and rich authenticity, rather than the analytical viewpoint of one individual. There is a place for the intelligent individual view of events, offering us insight from one person's intellect, but this was not that place. In choosing to act as a filtering channel for the raw emotions expressed by returning veterans, Sheers made a more magnificent achievement than if he had given us just his idea of what they were going through. Giving such complete powers of expression to the soldiers, he probably sank his own agenda too well to get a combination of Nobel peace prize and prize for literature but he and the project team deserve them.
One recurring theme in the writing is the soldiers talking about how war is the same over the centuries: people fight with stones, swords or guns but always on the bodies of people. Two veterans spoke about their first coming out of a coma of terrible injury to find themselves lying with the blue sky above. "I thought I was in heaven," says Charlie F, "but it was Selly Oak, Birmingham." The audience laughed, then he said, "No, really. With the blue sky above and a buzzing noise in my ears, I thought I had gone to heaven."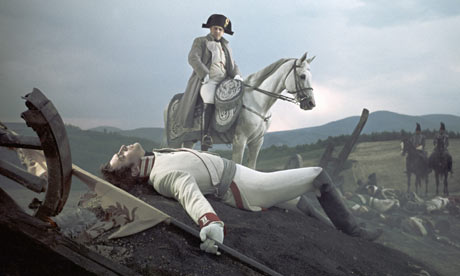 I was reminded of the scene in War and Peace, when Prince Andrei first comes back to consciousness on the battlefield, lying staring at the blue sky above him. A celestial feeling of peace comes over him, looking up at the blue sky in the aftermath of the dreadful destruction of battle. This is a turning point in the Prince's life, leading him away from the trivialities of aristocratic life in St Petersburg towards the values of a simpler, more rural existence focussed on family.
In Sheers's sensitive account, returning to family emerges as one of the most difficult problems for the soldiers. Physiotheraphy and earnest support to take part in trips to the North Pole or be involved in the paralympics demonstrate to wounded ex-soldiers that they can still engage in a life of pride in physical achievement. However meaningful relationships with their lovers and families become impossible to sustain.
I've worked, not in Afghanistan, but in the North West Frontier Province in Pakistan just the other side of the mountains where the '
great game
' was played. It's an experience which is at the heart of anthropology, to go to an area of the world where everything is different: the women here immured in compounds, the level of poverty so great, the dusty mud-brick houses, yet everything is the same: people are people. I remember once in a café in Peshawar, my friends and I were - as usual, shown to the purdah room because some of us were women. I'd expected a cubby-hole behind dark curtains in which we would have to hide to eat our food but instead we were taken to an upstairs room with one mud-brick wall halfway open to the light and air and a big cage of brightly coloured budgerigars along another. On the wall was a poster with pictures of Mujahideen on it. We asked the young boy who brought us water in a jug to wash our hands (there was no tap of course) about it, he said they were his brothers and cousins, they had died in combat and gone to heaven because they died on jihad. He too was keen to go and fight the Russians, to die in combat and go straight to heaven.
In the play one veteran soldier speaks of having young boys of 11 coming running at her with a gun in their hands. She would shoot over their heads, hoping they would drop their weapons and run but if they didn't, it was Them or You. Another soldier spoke about bad days, when he might have to phone his children's mother and say,
I can't have them over this weekend
. The actor playing the therapist asks if he can talk to his family about why but of course the soldier dismisses this with scorn. Tell your 11 year old that you can't play with him because you're thinking about how you shot up some of Those 11 year olds?
It's in the intimate closeness of sexual relationships that the damage most becomes apparent of course. In that moment of deep warm human contact, the memories of cold human conflict must become unbearable and so sex becomes unbearable. The friend who kindly took me to the play wondered if Owen Sheers had also spoken to wives, girlfriends and mothers about the troubles they experience in trying to support returning veteran soldiers but I think probably he could get an excellent sense of how impossible this is from the soldiers themselves. That perhaps is one of the great tragedies of their situation, to know what the partners they depend on for emotional support have been through and are going through, to know why, yet not to able to resolve the difficulties which plunge the whole family into such trauma.
Another facet of the war which emerges from a sociological rather than an artistic writing of the piece is the involvement of soldiers from other areas of the world, from former colonies. Because Sheers was working with the veterans themselves and representing their reality, he didn't airbrush out the significant presence of, for example, Caribbean members of the armed forces; Charlie F is a Canadian.
It seems churlish to quibble about anything which might have been improved in such a fascinating and different dramatic production. The only area I wondered about was the more dramatic performance element. The stylised scene in which silhouette figures moved against the light across the stage to represent battle, the dance of veterans with women partners. The words were so dramatic that I felt the work could have stood without these parts, the direction so ably brought out the Shakespearean dance between light rapier strokes of humour and heavy serious emotional passages.
At the end of the piece Charlie F speaks some words which I suspect are in Owen Sheers's voice, rather than the soldiers' voices; Sheers gives us an opportunity to reflect on what we had seen in a broader frame of thinking. (Again in a classic Shakespearean style; a character will often stand up at the end of a Shakespeare play to make a speech which lifts the dramatic story up and asks us to reflect on wider meanings of life as we leave the theatre.) Sheers seemed to be asking us to consider something more than the opportunity for the wounded, injured and sick soldiers to work through their grief and difficulties, more than the chance for the audience to experience the cathartic voyeurism of understanding what they go through. I'm not sure I accurately remember the words, so it could be that this is just what I wanted to take from the play. In the spirit of Derrida's
Death of the Author
, then, I thought Charlie F said that so long as we went to war, there would always be more wounded and also that there are many more who are wounded in the world. I understood this to be a critique of what Eisenhower called the
Military Industrial Complex
and also a suggestion that there are
many more people who have not been injured or wounded in conflict but who are also limping through the world unable to sustain meaningful warm relationships. We might think about a different kind of world than one in which the Military Industrial Complex is so dominant, one
focussed on enabling people to be happy when they find someone who loves them, instead of frightened.
This piece of work in itself is a positive sign that we might start to turn towards that different kind of world: commercially unlikely to make large sums of money, altruistically devoted to allowing an authentic, raw and difficult emotional set of voices to come through to us in the comfort of our theatre seats, exploring not one simple viewpoint of the situation but the complicated nest of human relationships between different soldiers fighting, some of them children, the band of brothers bond between comrades in arms, the fractured love of veterans and their families, the final appeal of Charlie F: there are not two worlds, only one.